QDTEAMHEAD is an independent third-party maritime inspection consulting service company established by the industrial and commercial registration of the People's Republic of China. Our service area covers all the territory of the People's Republic of China. We have offices in Shanghai, Tianjin, Guangzhou, Ningbo and Dalian, and we could service in almost ports at China. We are committed to providing services to customers for professional maritime inspection services and technical consulting services.
Qingdao TEAMHEAD Inspection co,.ltd had certification by ISO 9001:2015 .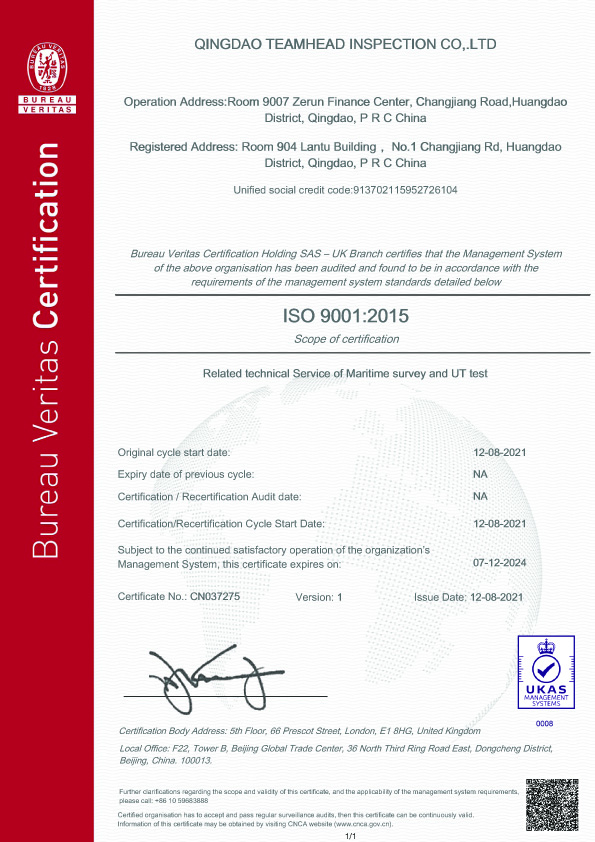 We always adhere to the rigorous scientific attitude, in line with the spirit of fairness and pragmatism and the principle of good faith, timely, accurate and economic and effective way to provide customers with "timely, fair and professional" services, and provide prompt, high-quality, professional maritime inspection consulting services for the P&I associations, insurance companies, shipowners, brokerage companies, charterers, consigner, consignee, shipper and other surveys companies, won a good reputation.
QDTEAMHEAD sincerely looks forward to cooperating with you and developing together. We will provide you with timely, accurate, efficient and professional services!
Justice Credibility Factualism Innova.tion
Our vision
To become a top-notch marine survey company, to provide our customers with top-notch service.
Our core values
Development is the fundamental to ensure the prosperity and stability of the company. A high quality, stable and united leadership and staff team is the source and guarantee of success.